A couple more funny things to end the week
I've been feeling very merry this week and the universe has responded in kind. Despite catching a cold for the first time in over a year, I've laughed A LOT this week.
Here's a couple more reasons why:
In Saddam Hussein's Home Town of Tikrit this monument has been unveiled to honor the Journalist Muntadhir al-Zaidi who hurled a shoe at George Bush after shouting "Farewell you dog".
From CNN
Assisted by children at the home, sculptor Laith al-Amiri erected a brown replica of one of the shoes hurled at Bush and Prime Minister Nuri al-Maliki. Al-Zaidi was jailed for his actions, and a trial is pending. But his angry gesture touched a defiant nerve throughout the Arab and Muslim world. He is regarded by many people as a hero. Demonstrators in December took to the streets in the Arab world and called for his release.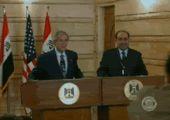 Full Story
Second thing that brought a smile to my face
(and a few abstract thoughts to my mind):
Die zehnte Dimension
I actually laughed out loud home alone whilst watching this! Although "highly intellectual", it does seem a bit tongue in cheek, if you want to read some serious theory of this nature - a friend of mine recommended reading a book called "The Elegant Universe".
....and last but certainly not least (I could go on, there's been plenty more)
The REAL Peter Griffin!!!!!
What a fun week it's been. :)
- Mr. Devo
Labels: Fun. family guy, Iraq war, sadam, Wacky Weird Strange comedy funny super hero bizarre wild odd