We made it - Africa's last hope prevails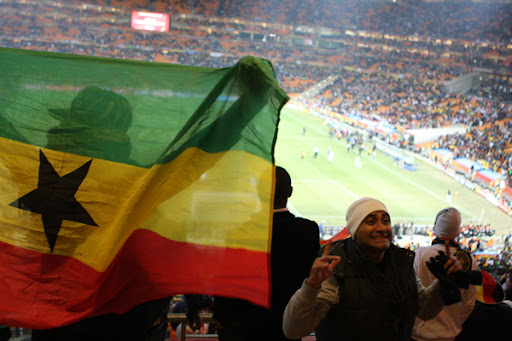 With the national anthem still ringing in my ears and my lips sore from blowing the vuvuzela like my life depended on it, I woke up to a morning some doubters said I would never see – Ghana survived their encounter with the Germans and are through to the round of 16.

After piggy backing an ANC police escort to Soccer City to cut through the gridlock, my friends and I made it to Soccer City 10 minutes before the start of the game.

The wondrous Soccer City glowed like a bowl of gold peppered with diamonds – I've never seen anything like it in my life. After taking a few pictures, I ran as fast as I could to the box seating entrance and managed to grab a pint and a fist full of biltong just in time to see Ghana kickoff against the mighty Germany.

Spirits were high as we watched a plucky Ghana endure all the Germans threw at us in the first half, leading to a spontaneous dance off in front of the big screen at half time.

In my box there were Germany and Ghana fans in equal measure and throughout the game we exchanged chants, handshakes and words of encouragement.

One Ghanaian lady who asked me to call her "Auntie Christina" cheered the loudest and at the end of the game, despite Germany stealing a goal, the whole stadium erupted in celebration after the "Socceroos" – Australia's national team – managed to beat the stubborn Serbian's 2-1, a result that sent Ghana and Germany through to the next round. As the final whistle blew, Auntie Christina gave me a look that said "we did it" and we sang and danced all the way to the park-and-ride.

After all the fuss about empty seats you'd have had to be Columbo to find an empty seat at Soccer City last night as fans from all nations turned out to see Africa's last hope battle one of the Europe's footballing super-powers. Ade, a Nigerian supporter who was at Soccer City said after the game: "They did us proud, even though we [Nigeria] are out of it, an African team is still in the cup, I'm happy and I will be cheering on my brothers."

I spoke to some American and Brazilian fans that were also at the game who felt that despite losing to the Germans, Ghana are a team to be reckoned with and will not make it easy for the Americans in the next round. Rob Kiley, from Boston said: "The Ghanaians are a tough side; they put up a good fight." Brazilian soccer fanatic George added: "They [Ghana] are Africa's Brazil, when they have the ball they are as good as anyone, they are a very skilful side."

Whatever the next round against America holds, one thing is for certain; Ghana has an international fan base and will also have the whole of Africa behind it.

- Mr Devo
Labels: america, Black Stars, FIFA, football, germany, Ghana, Round of 16, Soccer, Soccer City, usa, world cup